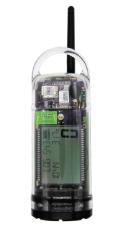 The Acrulog™ H2S Gas Monitor (PPM) is a bluetooth portable data-logger that has been designed to survive in the harshest environments. It is ideal for monitoring odours, corrosion, waste water, ventilation pipes, rising mains, manholes, wet wells and other severe environmental conditions found within the Waste Water industry.
All logged data can then be easily downloaded wirelessly via Bluetooth by connecting the data-logger to the Acrustat custom software. Patent Pending
Typical Applications:
Odour and corrosion control

Manhole and wet well monitoring

Asset management and research studies

Wastewater treatment plant monitoring

Ventilation pipes and rising mains
contact us for more information about the H2S PPM Gas Detectors
Features & Benefits of the Acrulog H2S PPM Gas Monitor
Designed for harsh environments

Bluetooth wireless download of data

Customized case with easy access to change batteries

Easy to download data using custom Acrustat software

Extensive battery life:

Over 12 months with 1 x 3.6v D size lithium battery

Over 3 months with 3 x AA size Alkaline batteries

Membrane isolated humidity sensor

One touch switch to access main menu

Large, clear, informative alpha-numeric display

Logging capacity of 3 million data points

Optional outputs: 4-20mA, RS485, 4G LTE-M or NB-IoT by connecting the data-logger to our own custom Acrustat software

Floats with self righting capabilities
Acrulog H2S PPM Datalogger Specifications
Measurement Range

0-50, 0-200, 0-1000 and 0-2000ppm,

Long Deployment (LD) or Short Deployment (SD) sensors available

Gas Accuracy at STP

+/- 2ppm at 20ppm gas (Normal temperature and pressure)

Instrument Temp Range

-20°C to 50°C

Relative Humidity Range

15-90% non-condensing

Ingress Protection

IP66/68

External Dimensions

Trilateral Diameter: 58.3mm x 59.3mm Height: 164mm

Instrument Weight

300 grams

Power Supply

3 x AA Alkaline Batteries (in adaptor)

Or 1 x 3.6v D Lithium Battery

Logging Interval

1 second to 60 minutes

Logging Capacity

3 million data points

Wireless communication

Bluetooth data download

Humidity Accuracy

+/- 5% RH @ 55% RH

Humidity Sensor Range

0 - 100%

Temperature Accuracy

+/- 0.3 @ 25°C

Optional Output upgrades

Warranty

12 Months
Otional Extras
Solar shade for housing Acrulog units in external environments.
Used to protect Acrulog units from weather conditions. Also reduce sensor drift as the result of rapid temperature fluctuations brought on by direct contact to the sun.
Bar can be locked in place with a pad lock to prevent the Acrulog Unit from being removed easily.
Download your PDF copy of the Acrulog H2S PPM data sheet
DOWNLOAD PDF for the Data Sheet H2S PPM Gas Monitor