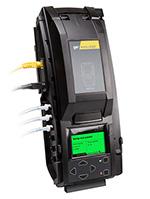 The IntelliDoX system combines smart docking modules and device management software to provide automated instrument management simply place the detector in the docking module, and it will automatically perform particular activities based on your specifications that have been setup via the Fleet Manager II or Honeywell SafetySuite software.
You can set each module to do a bump test, reconfigure the detector's high and low alarm set points, and more. It is also possible to use the software to analyse the data from each gas detector, run reports, track compliance and even send email reminders to workers.
Thanks to it's unique design each docking module has its own LCD and keypad for independent operation, so when you gang multiple modules together, you can perform different activities for different detectors - all at the same time.
Suitable for:
Honeywell BW™ MicroClip Series – Multi-Gas Detector

Honeywell BW™ Clip4 – Multi-Gas Detector

BW Clip Series – Single Gas Detector

ConneXt – Wireless Single Gas Detector
contact us for more information about the IntelliDoX for the MicroClip Series Gas Detectors
Features & Benefits of the IntelliDoX
Enables bump test tracking, easy recordkeeping for improved compliance

Performs the quickest bump test in the industry for increased uptime and no wasted calibration gas

Enables the ability to change alarm set points, set a noncompliance indicator when a bump test is due,

Flexible configuration

Efficient networking and data transfer for easy record keeping

Quick and easy setup
IntelliDoX Automated Management System Specifications
Size

13.8mm x 36.2mm x 10.9cm (individual docking module)

Weight

1.91 kg

Power Supply

12V / 8.33A ITE Power Supply

Real Time Clock

Provides time and date stamp

Communications Method

Two-way infrared communicaiton between docking module and detector

Exteternal Interface

Menu Navigation

Password Protected (when enabled)

Configure UI display language: English, French, German, Portuguese, Spanish

Automatic Tests

Automatic bump tests to verify sensor reposnds to the target gas

Automatic bump test in 10 seconds for BW Clip / BW Clip real time with FastBump

Data Storage

2 GB internal

Pump

Independent pump in each IntelliDoX module. Flow Rate: 350 ml/min

Instrument Management System

Fleet Manager II, version 4.4 or higher

Ratings

Low Voltage Directive 2014/35/EU

Warranty

Full two year warranty
Download more information on the Honeywell BW IntelliDoX Calibration Dock
DOWNLOAD PDF HERE for the Data Sheet on the IntelliDoX Data Sheet
Honeywell IntelliDoX features at a glance
Configuring the Honeywell IntelliDoX via USB drive
Connecting the Honeywell IntelliDoX via a Network