When working in a confined space situation it is important to ensure there is the appropriate amount of ventilation, either by adding fresh air or exracting contaminated air from the confined space work area.
Ventilation is used to remove the unpleasant smells and excessive moisture by introducing outside air, to keep the confined space air circulating, ventilation helps prevent stagnation of the interior air allowing for a free flow of fresh air.
Our range of Allegro blowers and extractors below will allow you to ventilate or purge the air in your confined space as required.
This email address is being protected from spambots. You need JavaScript enabled to view it.
8" Axial AC Plastic Blower with Compact Canister & Ducting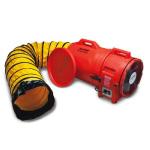 The Allegro 8″ Axial blower comes with canister and your choice of 15′ [M9536-15] or 25′ [M9536-25] ducting. This lightweight unit is designed with the quick-connect clipping system which allows workers to attach the canister, tools-free, to the input side for powerful extraction or output side for ventilation. The 15′ or 25′ ducting stores conveniently within the canister. P

owered by a 12 volt DC motor.
Special design features include blower and canister built-in carry handles, built-in On/Off switch and "safety" orange coloration.
8" Axial Ventilation Blower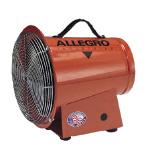 The Allegro Axial AC Metal Blower is a compact, lightweight 8″ blower that offers the highest output available from an AC electric motor. It is designed with tough steel construction, a durable grill, a convenient carrying handle and rubber feet. Its small profile means easy storage. Certified to CSA STD C22.2 No 113. Air delivery certified CEESI.
PN: M9513 [14"] / M9514 [28"] / M9514-25 [36"]
12" Axial AC High Output Metal Blower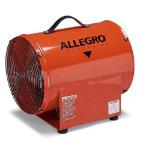 Designed for applications requiring larger amounts of air output, this 12″ Axial High Output Blower features a 1/2 hp motor with efficient 3-blade impeller in a rugged, lightweight and portable metal housing. Certified to CSA Standard C22.2 No.113.
PN: M9509-50 [meets CSA C22.2 No. 113 requirements] / M9509-50E [does not meet requirements]
Venturi Blowers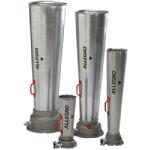 Compressed air or saturated steam is the power source for our Venturi Blower line. Small volumes of high velocity air (from the compressed air source) run through the casting and out the nozzle jets, creating a venturi or pulling action that creates large volumes of air through the Venturi and out the air diffuser.
A 1/2" hose with a "crows foot" connection is recommended from your air supply source to the side inlet connection. The compressor size required can be determined by checking the chart on air consumed at various inlet pressures. Operate this Venturi Blower on air or steam lines limited to 140 psi.
Allegro Industries Confined Space Blowers