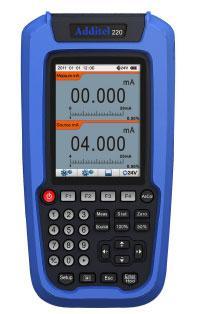 Additel's 220 is a highly integrated loop calibrator featuring several patented technologies. This calibrator is a ultra-compact, rugged, and best of all, easy to use hand-held device that will source, simulate and measure loop current, mV/V, Loop Continuity Test, and also perform switch testing.
Its smart phone-like menu and interface makes it simple and easy to use. The ADT220 is ideal for calibrating, maintaining, and troubleshooting various loop devices in the field.
Featuring:
Measuring and Sourcing loop current, mV, and V

Measuring and sourcing simultaneously

Loop integrity check capability

24V loop supply with simultaneous current measurement

Three year warranty
Measuring and sourcing loop current, mV and V
Measures loop current up to 30mA with 0.1µA resolution Measures voltage signals up to 60 V, and mV signals up to 300 mV
Sources/sink loop current, mV and V 24V loop power supply with simultaneous current measurement
Simultaneous dual reading capability Capture switch
Data statistics and analysis
Display max, min, peak-to-peak, average, and percentage simultaneously
Convert data to a real physical value through re-scaling function
High-capacity storage with up to twenty thousand records
On-line view, index, analyse, auto-curve, and list the data
Various sources and converting mode
Support linear, flow, valve, and 25% stepping source
Auto-source of ramping and stepping
"As Cal" on-site calibration tools
Four on-site calibration tools preset: loop indicator, sensor/transmitter, signal isolator/converter, and limit alarm/switch
Support 2W transmitter connection
English,Simplified Chinese
Calculator, thermocouple converter, HOLD screen lock
Smartphone-like menu and interface make the operation simpler and easier
Ultra-compact, size 3.9" x 7.6" x 2.0" (100mm x 192mm x 52mm), and weight 1.6 lb (0.7 kg)
Save and manage up to 100 snapshots
3.5 inch TFT color screen 4, 5, or 6 digits adjustable display
Rugged design for harsh environments. Passed a 1-meter drop test Three years warranty for the 220, and one year for the battery pack
Misuse protection and Electrical isolation
Up to 30V voltage on any two sockets and up to 1A current on current sockets will not damage the calibrator. The calibrator will return to normal condition as soon as the voltage or current is removed. Measuring, sourcing and loop power circuits are electrically isolated each other.
Rechargeable Li-ion battery for 15 hours uninterrupted use. Battery life will be reduced when 24V is applied. The rechargeable battery is replaceable.
NIST Traceable Calibration with data
Support firmware upgrade when available