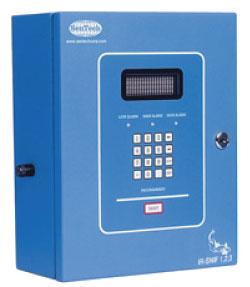 Single Zone Refrigerant Loss Monitors
The Environmental System IR-SNIF-1,2,3 monitors by SenTech are "Early Warning" loss detection monitoring systems that have been designed specifically for refrigerants.
SenTech IR-SNIF-1,2,3 monitors provide compliance with ASHRAE Standard 15.
The IR-SNIF-1,2,3 systems are based on an advanced infrared technology that can detect multiple refrigerant types at concentration levels as low as ten part per million (PPM).
Features of the Sentech IR-SNIF-1,2,3 Refrigerant Monitor include:
Allows Compliance with ASHRAE Standard 15

Detects all halogen based refrigerants

Refrigerant type can be field changed without recalibration

Continuous digital display of system status

Analog output for remote monitoring

System malfunction detection and indication

Visual alarm indication

Models are available to accommodate sampling points located up to 250 feet (76 meters) from unit

Fresh air inlet for automatic rezeroing

Individually adjusted alarm points for each gas type being monitored
Suitable applications for the Sentech Refrigeration Leak Monitors are:
Comfort Air Application Examples:
Office Buildings

Hospitals

Schools and Universities

Factories

Government facilities
Refrigeration Application Examples:
Supermarkets

Refrigerated warehousing

Industiral process cooling

Sports arenas

Agricultural process and storage
Critiacal Environment Examples:
Corporate data centres

Telecom switching facilities

Process control rooms

Industrial robotic systems

Medical diagnostic complexes

Clean rooms
Specifications for the Sentech SNIF 1,2,3
Sensitivity

As low as 10PPM

Weight

7.2 kgs

Power Requirements

120/240 Volt 50/60 Hz

Range

0 to 1000 PPM

Alarm Trip Points

Low Alarm 0 to 100% of Full Scale

Main Alarm 0 to 100% of Full Scale

High Alarm 0 to 100% of Full Scale

Operating Environment Range

Alarm Outputs

Alarm Relays with 4 Form C contacts (2 amps maximum)
IR SNIF Models & Accessories
IR-SNIF-MCD Models
IR-SNIF 1,2,3 (Single Zone w/ 3 Alarm levels)
IR-SNIF-MCD Accessories
Strobe light, Horn, Combination strobe/horn

Zone pickup tubing
Calibration
To ensure your refrigerant monitor is working according to speficiations it is important that the unit is calibrated to manufacturer's recommendations or per Australian Standards and Regulations.
contact us for information and pricing on the Sentech Refrigerant Leak Detector Calibrations.