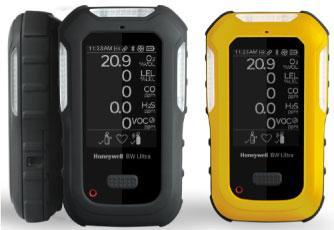 Portable Five Gas Detector for sampling or monitoring confined space or dangerours gases
The NEW Honeywell BWTM Ultra has been designed specifically for the sampling and monitoring of dangerous gases in confined spaces, before and after entry, Honeywell BW™ Ultra offers enhanced 1-Series sensor technology, visibility on gas readings, comfort, and connectivity. This makes it more reliable and provides an intuitive user experience, helping to prevent a potential gas safety incident.
The Honeywell BW™ Ultra will fit to the shape of your hand – with a comfortable weight and a slimmer profile than other five-gas detectors – to minimising fatigue and offering enhanced productivity.
One-button operation you've come to expect from Honeywell detectors. An internal pump and no snag points mean if you need to wear the Honeywell BW™ Ultra in tight spaces the detector will move with you.
The Honeywell BW™ Ultra fully complies with all safety regulations in place by detecting the five gases for added protection at work.
Suitable applications include: oil & gas, pulp & paper, water treatment, shipping industry, chemical plants, or other industries for confined space entries.
Featuring:
Small size with large easy to view screen

Easy to use

New 1-Series sensor for enhanced reliability

Rugged and reliable

Honeywell Connected Worker compatible

Affordable protection

IP Rating IP66/68

3 year warranty*
Gases Detected: H2S, CO, O2, LEL, VOC, CO2, SO2, NH3, H2, CL2, NO2, HCN, NO
contact us for more information about the Honeywell BW Ultra
Benefits
Ultra Easy
Tamper-proof operation with one button operation

Intuitive LCD icons for quick decision making

Easy service and maintenance
Ultra Visibility
Intuitive large dot matrix display giving clear readings

Smart Gas layout for clear sensor reading

Hole Watch Mode for quick decision making

IntelliFlash™ and also Reverse IntelliFlash™ for clear compliance
Ultra Rugged
Honeycomb-designed housing for extra ruggedness

Protection designed in the right place

Scratch-resistant display protector
Ultra Connected
Honeywell Connected Worker compatible

Honeywell TouchConnect™ Technology for activating a feature

Honeywell SafetySuite for unit configuration and reporting
Ultra Comfortable
Ergonomically designed for easy use

Light yet rugged design

Fits in the hand for easy sampling
Ultra Quick
Quick responding sensor technology

Quick decision making because large display

Quick bump & calibration with IntelliDoX system
Specifications
Size

Weight

Temperature

Humidity

0% - 95% RH [non-condensing]

Ingress Protection

IP66/68

Alarms & Type

visual, vibrating, audible [95dB],

Low, High, STEL, TWA, OL [over limit]

Self Test

Activated detectors automatically perform one internal diagnostic test every 24 hours (sensors, battery & circuitry)

Pump

Sampe from up to 22.9m

Typical Battery Life*

18 hours [typical]; (14 hours with PID or IR sensor) at -20°c

Connected Worker

BluetoothTM Low Energy (BLE) - ability to connect to Honeywell's Safety Communicator App

Honeywell's TouchConnectTM - Easy ability to enter Bump or Calibration mode or change Set-Points

Event Logging

30 alarm events and 10 bump events

Data Logging

45 days based on 8 hour shifts every 15 seconds logging

User Options

Adjust STEL period (5-15 minutes in 1 minute intervals)

Select combustible gas measurement: 0-100% LEL (lower explosive limit) or Methane gas 0-5.0% v/v

LEL and PID correction factors

Calibration due date (1 to 365 days, or set to sero for off)

Individual sensor enable /disable

Languages: English, French, German, Portuguese, Spanish, Simplified Chinese and Russian

Certificates & Approvals

Class 1, Div 1, Gr A, B, C, D

Atex: II 1G Ex ia IIC T4 Ga

Warranty

Sensors: 3 years (2 years NH3, 1 year PID and Cl2)
DUE TO ONGOING RESEARCH AND PRODUCT IMPROVEMENT, SPECIFICATIONS ARE SUBJECT TO CHANGE WITHOUT NOTICE
Sensor Specifications
| | | |
| --- | --- | --- |
| Oxygen (O2) | | 0.1% vol |
| Combustible Gases (LEL) | 0 - 100% LEL | 1% LEL |
| Combustible Gases (IR)* | 1 - 5.00% vol | 0.01% vol |
| Hydrogen Sulfide (H2S) | 0 - 100 ppm | 1 ppm / 0.1 ppm |
| Carbon Monoxide (C0) | 0 - 2,000 ppm | 1 ppm |
| Carbon Monoxide (Low H2) (C0-H) | 0 - 1,000 ppm | 1 ppm |
| Sulfur Dioxide (S02) | 0 - 100 ppm | 0.1 ppm |
| Hydrogen (H2) | 0 - 2,000 ppm | 5 ppm |
| Carbon Dioxide (C02) | 0 - 50,000 ppm | 100 ppm |
| Ammonia (NH3) | 0 - 100 ppm | 1 ppm |
| Volatile Organic Compounds (VOC)** | 0 - 1,000 ppm | 1 ppm |
| Chlorine (CL2) | 0 - 20 ppm | 0.1 ppm |
| Nitrogen Dioxide (N02) | 0 - 50 ppm | 0.1 ppm |
| Hydrogen Cyanide (HCN) | 0 - 100 ppm | 0.1 ppm |
| Nitrogen Monoxide (N0) | 0 - 200 ppm | 1 ppm |
* Caution - the LEL IR combustible gas sensor option used in Honeywell BW™ Ultra cannot detect certain combustible gases including hydrogen and acetylene. The application should be reviewed to ensure the Honeywell BW™ Ultra can provide adequate detection. For more information, please contact us.
** Please contact us for availability
Accessories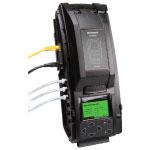 IntelliDox Calibratoin & Docking Station
The IntelliDoX system combines smart docking modules and Fleet Manager II software to provide automated instrument management for Honeywell BW™ Solo, Honeywell BW™ Ultra, BW™ MaxXTII, BW™ Clip Series, Honeywell BW™ Clip4 and Honeywell BW™ MicroClip Series gas detectors - helping you drive productivity, reliability and efficiency.
View Honeywell's Introduction video on the Honeywell BWTM Ultra Multi Gas Detector
Honeywell BW™ Ultra Downloads
DOWNLOAD PDF data/ specification sheet for the BW Ultra
DOWNLOAD PDF data/ specification sheet for the BW Ultra
*refer to specifications for warranty information on sensor and battery life