The GasAlert MicroClip X3 from Honeywell BW™ is small in size, easy to use with reliable operation offering affordable protection. With that combination of benefits, it's no wonder the X3 is the world's most popular multi-gas detector.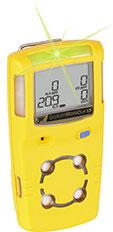 Multi gas detector for H2S / CO / O2 / LEL with a 3 year warranty. It features an all new O2 sensor and battery run time of 18 hours in normal temperatures and IP68 water protection. This versatile portable gas detector is suited for confined space entry, telecommunications, oil & gas, water & waste water treatment plants and more.
contact us for more information about the Honeywell BW™ Gas Alert MicroClip X3
GASALERT MICROCLIP X3

PORTABLE / EASY TO USE / RELIABLE

CO | H2S | O2 | LEL

Five-year life expectancy with three-year warranty

Part of Honeywell's MicroClip Gas Detector range

Featuring
3 year Oxygen sensor

Continuous visual compliance with IntelliFlashTM

Multi-gas versatility with one-button simplicity

Compact & light weight design

Water Resistant

Bright wide-angled visual alarm bars

Standard datalogger

Concussion-proof boot

Continuous LCD shows simultaneous gas concentrations (H2S, CO, O2, CH4 & combustible)

Lithium polymer battery

Internal vibrating alarm

Four alarm levels

Fully compatible with Honeywell's MicroDock II automatic test & calibration station

Records TWA, STEL & maximum exposures to gas and displays reading on command

Full function self-test of sensor, battery, circuitry & audible/visual/vibration alarms

Full 3 year warranty including sensors
MicroClip X3 Specifications
Size

Weight

Temperature

Humidity

0% - 95% RH [non-condensing]

Alarms

- visual, vibrating, audible [95dB]

- Low, High, STEL, TWA, OL [over limit]

Test

Audible / Visual alarms on activation, sensors, battery and circuitry [continuous]

Pump

Compatible with sampler motorised sampling pump

Typical Battery Life*

18 hours [typical]; recharges in less than 6 hours

User Options

O2 auto calibration gas level

User-settable calibration gas level

Combustible gas measurement [%LEL or % by volume methane]

Ratings

EMI/RFI: complies with EMC directive 2004/108/EC IP66

Certificates & Approvals

Class 1, Div 1, Gr A, B, C, D
*Approximately 20% capacity loss is normal with lithium polymer batteries after 500 charge cycles. Refer to the Operator's Manual for additional information
**Battery is guaranteed to have 12 hour runtime during warranty period under normal operating temperature -20 to 50°C
Accessories suited to the X3 portable gas monitor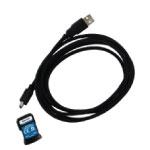 IR Connectivity Kit
The IR connectivity kit easily connects through the charging and IR communications port for data downloads and access to instrument set-up options.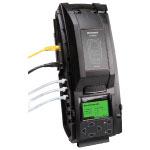 IntelliDoX Calibration Dock
The IntelliDoX system combines smart docking modules and device management software to provide automated instrument management for Honeywell Gas Detectors. [Replaces the MicroDock II by Honeywell] MicroClip Series gas detector compatible - helping you drive productivity, reliability and efficiency.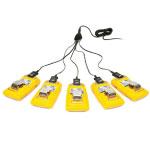 Multi unit Power Adapter for MicroClip X3
Simultaneously charges five detectors. Perfect for professionals with wide fleets of gas detectors.