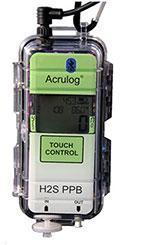 Parts Per Billion H2S Gas Monitor
The Acrulog™ H2S Parts Per Billions Monitor (PPB) is a portable gas detector with data-logger that has been designed for indoor and outdoor environmental applications. It is able to record low levels (0-2000ppb) of Hydrogen Sulphide (H2S), at sampling intervals of between 10 minutes and 1 hour. This Model Features built-in sample pump and optional 4-20mA industrial output with multiple power options, with exchangeable internal batteries, as well as optional compatibility with external power input via a waterproof cable (5V).
The H2S Parts Per Billions Monitor (PPB) gas monitor from Acrulog™ logs and provides data to ensure that offensive and nuisance odour emissions are within acceptable environmental levels.
contact us for more information about the H2S PPB Gas Detectors
Typical Applications:
Fence line monitoring

Scrubber Outlet monitoring

Plant Perimeter

Environmental Odour Control studies

Corrosion Studies and control in equipment rooms
Features & Benefits of the Acrulog H2S PPB Gas Monitor
Designed for harsh environments

Battery life:

Battery life of up to 21 days with 2x 1.5v D Alkaline batteries

Battery life of up to 60 days with 2x 3.6v D Lithium batteries

Logging capacity of 3 million data points.

Large, clear and informative alpha-numeric display

External filter for easy replacement

One touch switch to access main menu

Customised case with easy access to change batteries
Acrulog H2S PPM Datalogger Specifications
Measurement Range

Zero Drift

<+/- 10ppb at NTP (Normal temperature and pressure)

Accuracy

<+/- 10% of reading over range at NTP, calibrated at 500ppb

Instrument Temp Range

-10°C to 50°C

Sensor Temp Range

-10°C to 40°C

Relative Humidity Range

0 - 100% non-condensing

Ingress Protection

IP54

External Dimensions

Instrument Weight

850 grams with Alkaline batteries fitted

Power Supply

3 x AA Alkaline Batteries (in adaptor)

Or 1 x 3.6v D Lithium Battery

Logging Interval

10 minutes to 60 minutes

Logging Capacity

3 million data points

Humidity Accuracy

+/- 5% RH @ 55% RH

Humidity Sensor Range

0-100%

Temperature Accuracy

+/- 0.3 @ 25°C

Warranty

12 Months
Download your PDF copy of the Acrulog H2S PPB Data Sheet
DOWNLOAD PDF for the Data Sheet H2S PPB Gas Monitor