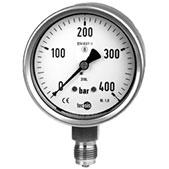 Stainless Steel, Chemical Resistant, Glycerine Filled Pressure Gauge
The Tecsis P2113 pressure gauge is ideal for the hard conditions and the high demands on pressure measurement in production facilities in chemical industry and other comparable branches the all stainless steel pressure gauges are the perfect fit. The stainless steel and other high-grade materials used for the measuring system and the casing mean that the P2113 is able to achieve resistance to aggressive media and environments.
To prevent wear based on pulsating pressures and mechanical vibrations, the housings are glycerine filled and thereby damped. The measuring system is of accuracy class 1.0, has overrange protection amounting to 1.3 times the max. rating and can be loaded up to the full scale value.
The safety execution of the pressure gauges comprises a burstproof solid front between dial and Bourdon tube, a laminated safety glass as well as a blow-out back (according to EN 837-1/S3).
Pressure gauges with glycerine filling are equipped with a compensation diaphragm. This diaphragm avoids a pressure rise in the case that is due to the temperature bound volume expansion of the liquid filling, thus avoiding indicated errors.
Measuring Range
0 ... 0.6 bar to 0 ... 1000 bar
Features
Connection position bottom, radial

With or without inductiv alarm-contact

Measuring system of high corrosion resistant materials, stainless steel or Monel 400

Resistant to chemicals

Accuracy class 1.0

Fulfills highest safety requirements to EN 837-1/S3

Solid front between measuring system and dial

Vibration-free display and long service life through glycerine or polybuten filling
Typical Applications
Processing technology

Compressors

Machine & apparatus construction
Mount & Casing
Model

P2113

Case

Stainless steel, 1.4301 with blow-out back,

solid front Scale ranges ≤ 0 … 16 bar,

with compensating valve to vent case

Bezel

stainless steel 1.4301 bright bayonet ring

Window
Dial

aluminium, white, scale & black imprint

Pointer
Movement
Connection