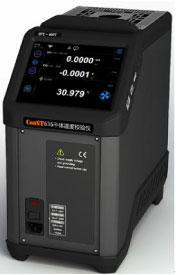 The NEW ADT875 Dry Well Calibrator series from Additel is the calibration tool for those who are serious about portable temperature calibration tools. Not only do the Additel 875 Series Dry Well Calibrators combine excellent performance in stability, radial and axial uniformity, loading with speed, ruggedness and portability, offering a stable heat source.
The Process Calibrator option adds the capabilities of a three-channel thermometer readout and a documenting process calibrator. Additel also incorporated a unique option to elect your own temperature range within the range of the model selected. They have called this the 'CYOR' option or Choose Your Own Range option. When purchasing the CYOR option, you pick the upper and lower temperature range needed and Additel will calibrate and optimise the dry well's performance over your selected range. Each unit has a color touch screen display, dual-zone control, and much more.
Three models ranging from -40℃ to 660℃

Portable, rugged, and quick to temperature

Metrology-level performance in stability, uniformity, accuracy and loading effect

Dual-zone control

Process calibrator option provides a multi-channel readout for a reference

Thermometer, RTDs and TCs, task documentation , and HART communication

Color touch screen display

Choose your own range option

Set point control by reference

Self-calibration feature

Wifi & Bluetooth communication
Process Calibrator Option
Each of the ADT875 models offer have a Process Calibrator (PC) option. This process calibrator option combines the many features found in a HART documenting process calibrator with the temperature dry well. This option includes the ability to measure a reference PRT with two device under test channels which can measure, mA, voltage, switch, RTD or thermocouple. Adding to these measurement functions, the ADT875 has full documenting capability of creating tasks, saving as found and as left results, and HART communication. The snap shot feature allows you to capture all information displayed on the screen with the push of a button. This unit also allow for data logging of all channels on an auto step function and a ramp function. By utilising the reference PRT, you can select to control to the dry well set point using the internal sensor or the external reference PRT.
Self Calibration
Additel believe's using an external reference probe as your standard is the best way to perform your temperature calibration. They recognise this method is not always necessary or convenient and depending on the application, using the internal control sensor would be preferred. Traditionally, the internal control sensor has a wide accuracy which can largely be contributed to its long-term drift. A built-in a self calibration feature allows you to run an automated calibration of the internal control sensor using your external reference. With literally a few selections the calibration will run automatically giving you a fresh, traceable calibration of the control sensor which will improve its accuracy as you will not have to account for its long term drift when used as the reference.
Specifications
Specification / Model
ADT875-155
ADT875-350
ADT875-660

Temperature Range at 23°c

-40°c to 155°c

33°c to 350°c

33°c to 660°c

Display Accuracy

+

0.18°c to Full Range

+

0.2°c to Full Range

Stability (30 mins)

+

0.01°c to Full Range

+

0.02°c to Full Range

Axial Uniformity at 60 mm

+

0.07°c to Full Range

Radial Uniformity

+

0.1°c (Display Sensor)

+

0.02°c to 33°c

Loading Effect

+

0.02°c (External Sensor)

+

0.015°c (External Sensor)

+

0.025°c (External Sensor)

Hysteresis (Display Sensor)

0.025°c

0.03°c

0.1°c

Environmentatl Conditions

8°c to 38°c guaranteed accuracy

0°c to 50°c, 0% to 90% RH non-condensing, 3000 M altitude for normal operation

Storage Conditions

-20°c to 60°c

IP Rating

IP20

Immersion Depth

150 mm

Insert OD

25.8 mm

24.8 mm

Heating Time

5 min: 33°c to 350°c

5 min: 33°c to 660°c

Cooling Time

Typical Time to Stability

10 min

Resolution

0.01°c

Units

°C, °F and K

Display

165 mm colout touch screen

Size (H x W x D)

320 mm x 170 mm x 330 mm

Weight

9.9kg

8.2kg

Power Requirements

90-254 VAC, 45-65 Hz, 590 W

90-254 VAC, 45-65 Hz, 1200 W

Mechanical Testing

Vibration: 2 g, (10-500 Hz), 30 min for 2 sides

Communication

USB A, USB B, RJ45, WiFi, Bluetooth

Localisation

English, Chinese, Japanese, Russian, German, French, Italian, Spanish
Input Specificaitons for Process Calibrator [PC] Option
(Probe Accuracy Not included)

Readout Resolution

1 mΩ

Reference Resistance Range

0 Ω to 400Ω

Reference Resistance Accuracy

Reference Characterisations

ITS-90, CVD, IEC-751, Resistance

Reference Measurement Capability

4-wire PRT

Reference Probe Connection

6 pin lemo smart connector

RTD Channels

2

RTD Measurement Accuracy

(excl sensor) Compliance

RTD Measurement Resolution

0 Ω to 400 Ω: 1 mΩ

400 Ω to 4K Ω: 0.01 Ω

RTD Mesurement Resistance Range

0 Ω to 4K Ω

RTD Characterisations

PT10, PT25, PT50, PT100, PT200, PT500, PT1000, CU10, CU50, CU100, NI100, NI120

RTD Coonection

Four 4 mm input jacks

RTD Channels

2 Channels. Both accept 2, 3 or 4 wire RTD's

TC Channel

2

TC Measurement Channels

Mini TC terminals: Accepting S, R, K, B, N, E, J, T, C, D, G, L and U

TC Measurement Accuracty (excl sensor)

0 Ω to 400 Ω: 1 mΩ0 Ω to 400 Ω: 1 m Ω

TC Voltage Accuracy

0.02% RD + 5μV

Internal Voltage Accuracy

±0.35 (ambient from 0°c to 50°c)

Current Range

-30 mA to 30 mA

Current Accuracy

0.02% RD + 2 μA

Current Resolution

0.001 mA, Input Impedance: < 10Ω

Voltage Range

-30 V to 30V

Voltate Accuracy

±0.02% RD + mV

Voltate Resolution

0.001V; Input Impedance: < 1MΩ

Switch Test

Mechanical or Electrical

DC 24V Output

24 V ±1 V, MAX 60 mA

Hart Communication

Optional (ADT875PC Model)

Documenation

Up to 1,000 tasks which store up to 10 results each containing as found and as left data. Snap shot feature allows for screen captures. Records auto step and ram p functions.

0°c to 8°c and 38°c to 50°c

Low Temperature heat source: ±0.005°c/°c

High Temperature heat source: ±0.01°c/°c

Ref Readout: ±1 ppm FS/°c

RTD Readout: ±2 ppm FS/°c
DOWNLOAD PDF HERE for the Data Sheet ADT875 by Additel