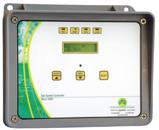 Four Channel Controller
The Micro 4000 four channel controller, teamed with the iQguard is an essential component for any carpark monitoring system. The Micro 4000 controls when and for how long the exhaust fans are operated.
The Micro 4000 accepts inputs from any sensor/transmitter combination that give a 4-20mA output. The unit also accepts inputs directly from Ampcontrol's range of combustible gas sensors, oxygen sensors and two wire contact input devices.
contact us for more information about the Micro 4000 Controller
Available in Standard, HVAC (SafeTguard) and Flameproof versions.
Microprocessor controlled

Accepts inputs from combustible land toxic gas sensors, flame sensor or any 4-20mA device

Two-line alpha numeric display

User friendly

Retains data on loss of power

Fully probrammable from the front

Built-in self diagnosis

Fan control logic option

Sofware 'Voting Logic' output

RS485® Modbus digital interface
Housing Options
The housing of the Micro 4000 is made of marine grade cast aluminium alloy and the cover of 25mm aluminium rolled plate.
A window in the cover permits the operator to observe the alphanumeric display and LED indicators.
The flameproof unit is SAA approved.