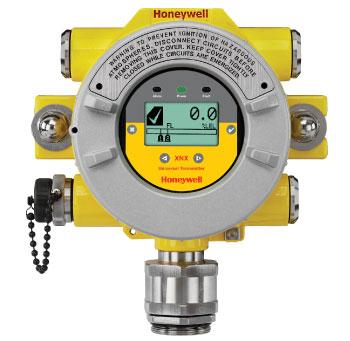 Universal Transimtter that supports a wide range of sensors
The XNXTM Universal Transmitter from Honeywell supports the widest range of sensors including: toxic, oxygen and combustible on a common platform and offers a modular choice of inputs and outputs (saving customers time and money).
There are three versions of the XNX available: Electrochemical, Infrared and Catalytic Bead. (The IR and Electrochemical versions require the purchase of a compatible sensor separately)
Featuring:
Flammable gas detection 0 to 100% LFL/LEL

Flexible operation options

Minimal training required

Material: LM25 aluminum, painted (SS316 painted optional)

Temperature: -40° to +65°C / -40° to +150°F (sensor dependent)

Humidity: 20 to 90% RH (non-condensing)

Explosion Proof Transmitters
contact us for more information about the XNX Universal Transmitter from Honeywell
XNX's advantage comes from it's simple-to-use, low-maintenance universal platform that works with other safety equipment on a digital bus system, including Honeywell Analytics' own Searchline Excel, Optima or other gas detectors, industry standard PLCs and third-party gas monitoring controllers.
Honeywell's XNX - Electrochemical, Infrared and Catalytic Bead gas monitors use standard 4-20mA wiring and HART; options include Modbus, Fieldbus (pending) up to three relays and a local Hart Adapter for configuration and diagnostics using existing HART handheld devices.
With 200+ unique configurations the XNX satisfies Class 1 / Class 2 intrinsically safe, explosion-proof requirements in upstream/downstream oil, chemical, wastewater and other industries.
The enclosure is available in stainless steel or aluminum, with a marine-grade coating. Five threaded ports, available in metric or NPT versions, and ruggedised mounting options provide ultimate installation flexibility.
Instrumentation built on various sensing technologies can be attached locally to the transmitter or remotely with the appropriate accessories.
Electrochemical
Proven electrochemical sensing technology

Surecell™ electrochemical cells are ideal for hot and humid environments

Long life sensing cells (typical >2 years)

Patented 'Reflex' sensing element verification diagnostics

Sensor recognition software auto configures transmitter

Plug and play factory configured sensors

Intrinsically safe sensor connection permits hot swap, reducing down time
Catalytic Bead
Supports Honeywell Analytics 705, 705HT, Sensepoint, Sensepoint HT and MPD sensors

Fast response to wide range of hydrocarbons and flammables
Infrared (Open Path IR, Point IR, IR Cell)
Supports Honeywell Analytics Searchline Excel, Searchpoint Optima Plus

Failsafe operation

Fast speed of response

Reduced routine maintenance

Immune to catalytic poisons

Long operating life

Works in inert atmospheres

General Specifications for the XNX Universal Transmitter
For more detailed specifications download the Specificaiton Sheet in Downloads
Material

LM25 Aluminum, painted (optional SS 316 painted also available)

Cable Entries

5 conduits/cable entries - (2 right, 2 left, 1 bottom) Available in 3/4" NPT, or M25

Termination

Cage Clamp pluggable Terminal Blocks with retaining screws, 0.5 to 2.5mm (12-28 AWG)

Mounting

Integral cast mounting tabs provide secure mounting to surfaces and channel. Can be mounted to 2" to 6" pipe or ceiling with corresponding mounting kit (optional)

User Interface

Standard Custom Backlit LCD 2.5" High Resolution DOT Matrix Display. Discrete Alarm adn Status indication. Reliable Non-Intrusive 4 button interface magnet wand access.

Signal

2 - 22mA analog current loop output with HART (version 6) compatible standard. Optional relay or Modbus

Temperature

-40°c to +65°c (sensor dependent)

Humidity

20 to 90% RH non-condensing

IP Rating

NEMA 4X IP66

18 - 24 VDC Nominal (EC & mV units 16 - 32 VDC; IR units 18-32 VDC [Class 2 supply required])

XNX used with: electrochemical sensor: 6.2 watts, millivolt (catalytic bead or IR cell)" 6.5 watts: point infrared sensor (Searchpoint Optima): 9.7 watts; open-path Infrared (Searchline Excel): 13.2 watts

(Transmitter/Sensor Dependent)

UL, cUL classified: UL 1203 and 913 Seventh edition; CSA, CSA 22.2 No. 30, CSA 22.2 No. 157

Class 1, Division 1, Groups B, C, D / Class 1, Zone 1, Groups IIB + H2 T4 Tamb -40c to 65c

DEMKO* IEC 60079-0, 4th ED; IEC 60079-15th Ed; IEC 60079-11 5th Ed. NCC INMETRO

Type Approval: EX [ia]d IIB + H2 T4 Tamb -40c to 65c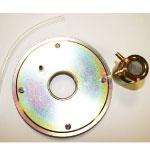 XNX Duct mounting kit for Series 3000 and XNX EC toxic sensors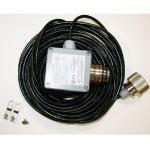 XNX Remote mounting kit for Series 3000 and XNX EC Toxic sensors



XNX Documents for Downloading
DOWNLOAD PDF HERE for the XNX Universal Transmitter Data Sheet by Honeywell
DOWNLOAD PDF HERE for the XNX Universal Transmitter Specifications Sheet by Honeywell