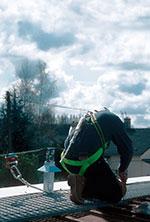 Söll MultiRail by Miller by Honeywell is a rail-based horizontal anchorage device that allows a shuttle to follow the user along the rail smoothly and can also be installed sideways in conjunction with rails to provide security when working at heights. This versatile system can also be installed sideways to be used as a handrail.
Available in Stainless Steel or Aluminium versions.
The Söll MultiRail can be installed along the entire falling zone and offers the advantage of greater fixing spans and higher number of simultaneous users compared with other rail systems.
Söll MultiRail provides fall protection for up to 6 workers across a maximum span of 6m, depending on the rail configuration

Easy connection of curves, T- and X- junctions for easy customisation to any structure (X- junction only available for the aluminium system)

Conforms to EN 795:2012 type D standard
contact us for more information about the range of Honeywell Roof Safety Systems
Suitable for use:
Horizontal Applications -
Building facades / storefronts

Flat or steeped roofs

Working platforms on masts and buildings

Hangars, shipyards and cranes

Industrial plants

Wind nacelles

Water treatment
Overhead Applications -
Truck cleaning

Maintenance

Loading bays