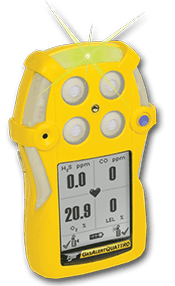 The GasAlertQuattro from Honeywell BW™ is a rugged and reliable four-gas detector that combines a comprehensive range of features with simple one-button operation.
Multi gas detector for H2S / CO / O2 / LEL with a choice of lithium ion battery or alkaline battery pack delivering long runtime and reliability. The graphic LCD displays easy to identify icons that indicate operational information, such as bump test and calibration status for simplified onsite auditing. The IntelliFlash provides continuous visual confirmation of detector operation and compliance.
The Quattro is suited to a wide range of industrial applications including confined space entry..

Featuring:
Compact & lightweight

Easy to use with one button operation

MicroDock II compatible

Interchangeable batthery pack or alkaline pack

Comprehensive datalogging and event logging capacity

CO & H2S sensor have enhanced resistance to common industrial cross sensitive gases such as methanol & ethanol
contact us for more information about the Gas Alert Quattro
Continuous visual compliance with IntelliFlashTM for both the user and supervisors from up to 6.1m

Continuous LCD shows real-time gas concentrations

Simple automatic calibration procedure; compatible with BW's MicroDock II automatic test and calibration station

Water Resistant

Full function self-test of sensor[s], battery status, circuit integrity and audible/visual alarms on start up and continuous testing on sensor[s]

Bright wide-angled visual alarm bars

Built in concussion-proof boot

Powered by an interchangeable rechargeable battery pack or alkaline pack with 3 x AA batteries

One button operation and straight forward user interface minimises training

Comprehensive datalogging and event logging capacity

Enhanced resistance to common industrial cross sensitive gases such as methanol and ethanol [CO & H2S sensors]

Multi-language support in English, French, German, Spanish and Portuguese

Field-proven SureCell sensors offer an unprecedented performance in even the harshest of environments

Full 2 year warranty including sensors
Size

13 x 8.1 x 4.7cm

Weight

316g with rechargeable battery pack




338g with alkaline battery pack

Temperature

Humidity

10% to 100% RH [non-condensing]

Alarms

- visual, vibrating, audible [95dB]

- Low, High, STEL, TWA, OL [over limit]

Test

Sensor integrity, circuitry, battery and audible/visual alarms on activation, battery (continuous), sensor (continuous)

Pump

Compatible with sampler motorised sampling pump

Typical Battery Life*

AA Alkaline: 14 hours (-20 to +50°c)

Rechargeable: 20 hours (+20 to +50°c)

Rechargeable: 18 hours (-20 to +50°c)

User Options

Confidence/Compliance Beep

User-settable calibration gas level

Combustible gas measurement [%LEL or % by volume methane]

Ratings

EMI/RFI: complies with EMC directive 2004/108/EC IP66

Certificates & Approvals

UL: Class I, Division 1, Groups A,B,C,D

EMI/RFI: Complies with EMC Directive 2004/108/EC IP66/IP6
*Approximately 20% capacity loss is normal with lithium polymer batteries after 500 charge cycles. Refer to the Operator's Manual for additional information
**Battery is guaranteed to have 12 hour runtime during warranty period under normal operating temperature

-20 to 50

°C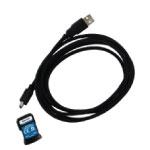 IR Connectivity Kit
The IR connectivity kit easily connects through the charging and IR communications port for data downloads and access to instrument set-up options.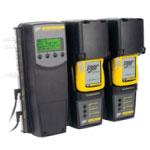 MicroDock II Base Station with Calibration Docking Module
The most cost effective way to manage the calibration and bump testing of BW's portable gas detectors is through the MicroDock II automated test and calibration system. Fully portable and easily expandable, the MicroDock II requires no computer and provides simultaneous management of up to six modules.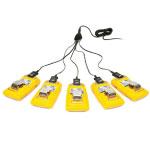 Multi unit Power Adapter for Quattro
This five gang charger will simultaneously charge up to five detectors.
COMING SOON