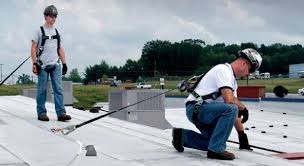 The Söll Xenon from Miller by Honeywell Safety is a high quality automatic horizontal cable system that is durable and made from corrosion resistant stainless steel. Not only is it suitable for crane runways, loading bays and roofs, it is also appropriate for water and food industry sectors. Perfect for installation work, building maintenance or cleaning.
It will provide fall protection for up to seven workers across a maximum span of 20m (1X19 cable, 8mm wide), depending on the line configuration.
The Söll Xenon system can be installed on posts at the bottom level with dedicated components like intermediate brackets and curves for smooth sliding of the standard shuttle. The system can also be installed for overhead usage with dedicated components - overhead intermediate brackets, and curse as as an overhead shuttle allowing for heavy usage with self retracting lifelines up to 20kg.
This versatile system can also act as an anchorage point to easily rescue fallen workers ensuring there is no structural damage. Incorporating a state-of-the-art shock absorber with Miller's patented force-dispersal technology.
Guarantees structural integrity and protects up to seven workers

The standard and overhead shuttle have excellent sliding performance

Conforms to EN795:2012 standard and AS/NZS 1891.2
contact us for more information about the range of Honeywell Roof Safety Systems
Suitable for use:
Horizontal Applications
Crane runways

Loading bays

Roofs
Overhead Applications
Truck cleaning

Maintenance

Loading bays