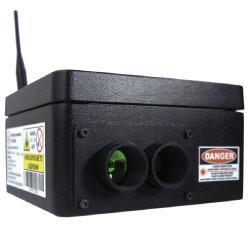 Open Path leak detector for larger rooms or fence line monitoring
The Photonic Innovations OPLD 4000 is the ideal ammonia gas leak monitor for protecting larger engine rooms or the periphery of a factory. Each OPLD can replace 2-4 point sensors. The device shines a low-powered non-dangerous laser beam across the room and collects it via a retroreflector. Featuring:
No repeat calibration or sensor replacement required

Low detection limit: 5ppm

Fast response time: 0.5 - 4 second

High accuracy and reliability: 1/2 of the detection limit

Integrates with SCADA

Ergonomic design

P54 rating
contact us for more information about the OPLD 4000 from Photonic Innovations
Designed for rooms with large floor areas
The open path laser covers a much larger area as compared to point detectors. Instead of installing multiple point sensors just install one open path detector to get the job done.
Integrates with SCADA
The OPLD 4000 integrates with the central monitoring system in the plant room. Standalone modules with integrated alarms and sirens are also available.
Specifications
Target Gas

Ammonia NH3

Lower Detection Limit*

5 ppm*

Accuracy

1/2 of the detection limit

Response Time (t10)

0.5 - 4 seconds**

Response Time (t90)
6t10

Material

Powder coated diecast Aluminium

Cable entry

Single M16

Dimensions

Length 160mm Width 158mm Height 92mm

Weight

2.5 kg

Electrical Supply

7-40 VDC 2 watts max

4-20mA Output, 2 wire connector

External supply ***Vmin - 40V

Communication

RS232 as standard, other protocols by request

4-20mA Output Signalling

0mA open circuit




2mA fault




4mA zero gas level




20mA full range range gas level




22mA over-range gas level

IP Rating

IP54

Operating Temperature

+5°C to +40°C

Operating Humidity

0 to 95% (non condensing)

Storage Conditions

-10°C to +50°C, < 75%RH
*with a min distance of 8m and a max distance of 15m between laser and reflector
**The final measurement is subjected to a user defined rolling average.
***Vmin depends on external loop impedance at 22mA. eg Vmin = 12v5 @ 250 Ω loop