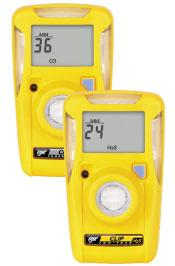 Honeywell's BW Clip Series of single-gas detectors provides up to three years maintenance-free operation: just turn on the device and it runs continuously - no need for sensor and battery replacement or battery charging. That means great reliability and no downtime.
Gases monitored - H2S, CO, O2 and SO2
Featuring:
Available in two year or three year versions for H2S and CO

Available in a two-year version for O2 or SO2

Unique hibernation case extends service life for the two-year H2S or CO

Compact, lightweight and easy to use — with one-button operation and no extensive training
The BW Clip series of portable single gas detectors by Honeywell are your everyday companion for hazardous environments, operates for up to three years maintenance-free. And with the two-year BW Clip for H2S or CO, you can get even more life for the price: Just slip it into a hibernation case when you're not using it for a week or more, and extend its service life for that period of time — for up to a year.
With an automated self-test, rugged protection for harsh environments, a wide-angle alarm flash and other features, the BW Clip is the most reliable detector of its kind — from the most trusted experts in gas detection.
When used with the IntelliDoX instrument management system, the BW Clip is also the most flexible and configurable maintenance-free detector on the market.
contact us for more information about the ToxiRAE Pro Gas Detectors