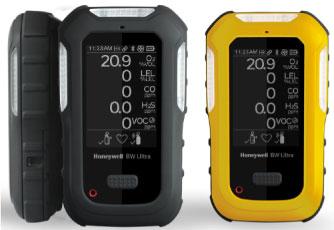 Portable Five Gas Detector for sampling or monitoring confined space or dangerours gases
The NEW Honeywell BWTM Ultra has been designed specifically for the sampling and monitoring of dangerous gases in confined spaces, before and after entry, Honeywell BW™ Ultra offers enhanced 1-Series sensor technology, visibility on gas readings, comfort, and connectivity. This makes it more reliable and provides an intuitive user experience, helping to prevent a potential gas safety incident.
The Honeywell BW™ Ultra will fit to the shape of your hand – with a comfortable weight and a slimmer profile than other five-gas detectors – to minimising fatigue and offering enhanced productivity.
One-button operation you've come to expect from Honeywell detectors. An internal pump and no snag points mean if you need to wear the Honeywell BW™ Ultra in tight spaces the detector will move with you.
The Honeywell BW™ Ultra fully complies with all safety regulations in place by detecting the five gases for added protection at work.
Suitable applications include: oil & gas, pulp & paper, water treatment, shipping industry, chemical plants, or other industries for confined space entries.
Featuring:
Small size with large easy to view screen

Easy to use

New 1-Series sensor for enhanced reliability

Rugged and reliable

Honeywell Connected Worker compatible

Affordable protection

IP Rating IP66/68

3 year warranty*
Gases Detected: H2S, CO, O2, LEL, VOC, CO2, SO2, NH3, H2, CL2, NO2, HCN, NO
contact us for more information about the Honeywell BW Ultra
*refer to specifications for warranty information on sensor and battery life